Safe Water for All, Inc.


A non profit organization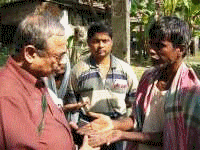 Baraipur, South-24 Pargana Free Clinic
Home
Arsenic toxicity
Past events
About us

FAQ
fund allocation
MISSION
STATEMENT

Safe drinking water is for every one on the earth, regardless of race, religion or socio-economic condition. Safe drinking water and safer sanitation is of great importance for mankind's health and well-being.


Ground water Arsenic contamination was found in many countries of
Asia
,
Latin America
, and even in
USA (see map)
. During 1960-1980's many affected countries were able to remove arsenic by necessary measures. Worldwide the number of

people affected have been very low and has not been as dangerous as has been found in many villages in
West Bengal
,
India
and
Bangladesh
. In
West Bengal
and
Bangladesh
, millions of people have been affected and millions more are at very high risks.
Currently our commitment and long term goal is to reach out to the people of affected areas in
West Bengal
,
Indi
a
,
where ground water arsenic levels are significantly and dangerously higher than maximum World Health Organization(WHO) permissible levels of 0.05 mg/L.


The governmental agencies are trying its best to help but more help is needed and we as non governmental organization (NGO) will raise funds to help these innocent victims as well.

Our primary focus is on the Health and Wellness

issues of affected people and at the same time help villagers get arsenic free water in the most economical and environmentally safer ways. Our organization has also run free medical clinics in several arsenic affected areas of West Bengal and we plan to expand on it.
Health & Wellness
Site Map
Maps
Web links
Contact us